Service Questions
Prompt Response
Our team is here to help!
Product Support
We stand behind our brand.
Partnership Info
Build Relationships!
We'd love To Meet You In Person Or Via The Web!
Have more questions or concerns? Just pick up the phone or shoot us an email. We look forward to talking with you soon!
Main Office: 7115 Forest Canyon Drive  Fort Smith, AR 72916
Phone: 1.479.721.1010
Email: Bill at McClure.com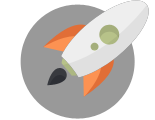 We're Here To Help Your Business Blast Off!
Through Creative Ideas, Innovation & Sheer Determination